Popular Kitchen Layouts For Apex, Cary, and Wake County Homeowners
Popular Kitchen Layouts
There are many factors that influence your decision when choosing a kitchen layout. And the majority of them boil down to the individual. The intended use of your kitchen may be very different from that of your neighbours. They may opt for a layout with a focus on efficiency and food preparation. You may want your kitchen to be a social hub for entertaining and teamwork.
Ultimately, it is often the available space that dictates the layout options. There will most likely be limits to the amount of space your kitchen can occupy, even in a custom-built home. Taking more space for the kitchen can come at a cost of space in other area of your home. It's important to evaluate your priorities both in the kitchen and in the surrounding rooms. The other most influential consideration will be your budget. On one hand, if you opt for more space, you may have to sacrifice on finishes. But, if you put more emphasis on style, you may have to sacrifice space.
There are pros and cons to all kitchen layouts, and we've broken them down for you. Keep reading to learn about the most common kitchen layout designs.
U-SHAPED
The U-shape kitchen layout is one that is sought after by homeowners since it's practical, space-efficient and stylish. Traditionally, the u-shaped kitchen is designed so that there are three connected walls of cabinets, leaving one end open for a doorway or open plan dining room or living room. New designs have evolved from three walls to a peninsula or island forming the third "wall." This layout provides ample storage space, workspace, and counter space with the flexibility of adding heftier elements, such as an island or oversized range hoods. The working triangle can be configured in several different ways around the cook depending on personal preference.
BEST FOR: Large kitchens
PROS:
Great for big families or people who enjoy entertaining
Lots of opportunity for organization
An abundance of counter space
Flexibility to put the added emphasis where you like
Very accommodating layout for those who like to cook
Plenty of room for traffic to flow freely
CONS:
Using all three sides of the room can reduce the floor area

Lower corner cabinets can be tricky to access

Too much floor area can put work areas too far apart

Not enough floor are can make the kitchen feel enclosed
L-SHAPED
The L-shaped layout places cabinetry and appliances along two adjoining walls that are perpendicular, forming an L. It's a great fit for for corners and open spaces. For the most part, each of the separate legs of the L are used as a designated clean-up and cooking area.
With plenty of counter space in two directions, this layout makes working in the kitchen efficient and avoids traffic problems.
BEST FOR: Small and medium-sized kitchens, open floor plans,
PROS:
Extremely adaptable layout

Eliminates traffic

Flexible work zones

Opportunity for creative corner solutions

Efficient for small spaces

Works well in open-living floor plans

Perfect for the addition of a kitchen island if space allows
CONS:
Not roomy enough for more than one cook
Tricky to access lower cabinet
The work triangle can become challenging
Not practical for larger kitchens since the appliances tend to get too spread out, reducing the size of the work triangle.
Adequate storage may be difficult to find depending on the size of your kitchen. Some floorplans opt to install a corner pantry to address this.
Galley Kitchen Layout
Named after the compact galleys on ships, this lean layout is built for functionality. It utilizes two walls, or two parallel countertops, opposite each other to make use of every square inch. The galley kitchen can be very cost-effective since most cabinetry and appliances can be ordered in standard sizing. It also eliminates the added expense of configuring corner cabinetry.
The space between the cabinets creates a walkway for smooth traffic flow through the kitchen.
BEST FOR: small spaces, long (as opposed to wide) spaces, one cook kitchens
PROS:
Doesn't take up too much space in the house

Keeps appliances close to one another for an efficient workspace triangle

Easy to move around
Easy to clean
Adjusts to pretty much any length
CONS:
Limited workspace flexibility

Doesn't work for large kitchens

Can feel small and cramped with multiple cooks or too much traffic
It can look dark if tall cabinets are overdone or there's not enough natural light
ONE-WALL
A departure from the conventional, a one-wall kitchen abandons the traditional wisdom of the work triangle to occupy as little space as possible. Typically, the range and refrigerator are separated by the sink along one linear wall. Placing all appliances, cabinets, and countertops on one wall allows the cook to perform all tasks in one workspace.
The one wall kitchen is a great option to avoid breaking up an open floorplan comprised of a kitchen, dining space, and living room. In recent years, the layout has become popular for homeowners with a lot of space but want the kitchen to stay open.
It isn't unusual to add extra storage and work surfaces to the layout in the form of a large island, a statement-making dining table, or a bar for entertaining in those larger kitchens.
BEST FOR: small spaces, open floor plans
PROS:
Appliances, ingredients, and preparation tools tend to be within easy reach of the food preparation area

Provides maximum floor area for traffic and other furniture

Creates a sense of openness
Lends itself to a modern design esthetic
The open space across from the cabinets allows for flexibility when easy to move furniture is used
No struggling with difficult base/corner cabinet design and functionality
CONS:
An overly long wall can make this plan very inefficient for cooks if they have to move across the layout many times while cooking

Typically offers limited counter space

Difficult for more than one cook at a time
Lack of storage space
ISLAND
An island can deliver more space for food prep, appliances, entertaining, and organization. Kitchen islands are extremely functional when installed properly. The number one mistake homeowners make is believing every kitchen should have one. Realistically, most kitchens don't have enough space to allow enough clearance needed for this feature. Not sure if you have enough room for an island? A good rule of thumb is to keep a least three feet on all sides between each counter.
An island can also help secure an efficient work-triangle in a large kitchen. The distance between work areas can decrease by installing appliances in the island.
Kitchen islands are versatile. Adding them to a layout can turn a one-wall kitchen into a galley or an L-shaped layout into a horseshoe.
BEST FOR: large kitchens, open floor plans.
PROS:
Additional storage

Added seating

Added counterspace
Can create a virtual divide in an open-concept home
CONS:
Can disrupt the flow of the workspace triangle

An added cost of more materials and extra labour

May result in your kitchen feeling smaller if the walkway between counters is too tight.
PENINSULA
A kitchen island can take up a lot of precious real estate in a kitchen. A great alternative is the kitchen peninsula instead. Essentially a connected island, a peninsula is a three-sided workstation, storage and eating solution. It can turn an L-shaped layout into a U-shaped layout or a U-shaped layout into a G-shaped layout.
BEST FOR: Large kitchens that don't have the appropriate square footage for a kitchen island and narrow kitchens.
PROS:
Three open sides that can be easily accessed

Can create a visual separation between other living areas and the kitchen

Length can be adjusted more easily to space restrictions (even a really small peninsula can be beneficial in a small space)

Added counter space

Extra storage space

An option for additional seating
Easier to add during a remodel
CONS:
Can create a bottleneck effect when kitchen traffic gets heavy

Creates difficult corner space

Limitations to flow in the workspace
It creates dead counter space in the corner where the peninsula and cabinets meet
Make sure to take the time to figure out what you really want from your kitchen and be realistic about how you will use it. Don't fall victim to the trap of falling in love with a picture of a designer kitchen that doesn't suit your reality.
Kitchen Remodeling Contractor Serving Wake County NC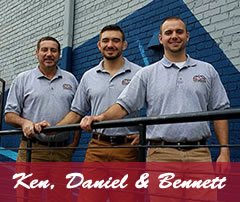 Branch Home Improvement LLC is a local remodeling and construction contractor serving clients within Wake County including Cary, Apex, and Holly Springs.  We specialize in remodeling kitchens.  We can transform your kitchen layout into a beautiful new space for you and your family to enjoy.
If you'd like to schedule a consultation for your kitchen remodeling project please give us a call at (919) 995-6325 or fill out our online contact form and we'll get right back to you.