Home Addition Contractor
We build spacious new home additions in Holly Springs, Apex, Cary, and Fuquay-Varina
Are you finding it difficult to accommodate your family's needs within your current living space? Is your household expanding, requiring additional room for all of your loved ones? If you love your neighborhood and would prefer to avoid the hassle of selling your home and relocating, building a home addition tailored to your space requirements could be the perfect solution.
At Branch Home Improvement LLC, we are a dedicated home remodeling contractor based in Holly Springs, proudly serving homeowners throughout the Triangle area of North Carolina including Apex, Cary, and Fuquay-Varina. Our expertise lies in designing and building exceptional home additions that seamlessly integrate with your existing property. Whether you're looking to create a single additional room or expand your living area by over 1,200 square feet, our experienced team is here to help.
With a keen eye for detail and a commitment to quality craftsmanship, we work closely with you to transform your home into a more spacious, comfortable environment tailored to your family's unique needs. Let us help you enhance your living space without the disruption of relocating – reach out to Branch Home Improvement LLC for all your home addition needs.
Types Of Home Additions We Can Build
Bump-out addition: This is a small-scale addition that extends an existing room by a few feet, typically to create more space or add a specific feature like a window seat or storage area.
Room addition: This involves adding a new room or rooms to the existing structure, such as a bedroom, bathroom, or family room. Room additions can be built on any level of the home, including the basement or attic.
Sunroom or four-season room: These are glass-enclosed spaces designed to provide natural light and additional living space while allowing homeowners to enjoy the outdoors year-round.
Second-story addition: This type of addition involves adding an entire new level to a one-story home or extending the living space of a two-story home. This can significantly increase the square footage of the home and may include new bedrooms, bathrooms, or living areas.
Garage conversion: This involves converting an existing garage into living space, such as a bedroom, office, or family room. This type of addition is popular for adding square footage without altering the home's exterior appearance.
In-law suite or accessory dwelling unit (ADU): This is a separate living space within the main home or a detached structure on the property, designed to accommodate extended family members or renters. In-law suites typically include a bedroom, bathroom, kitchen, and living area.
Basement conversion: Transforming an unfinished or underutilized basement into a functional living space, such as a home theater, playroom, or additional bedroom and bathroom.
Dormer addition: This involves adding a dormer window to an existing sloped roof, creating additional living space and headroom in an attic or upper-level room.
Why Choose Branch Home Improvement For Your Home Addition Construction Project?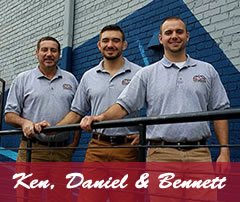 When you choose to work with Branch Home Improvement to design and build your home addition you are partnering with a small team of talented and dedicated craftsman.  We take your commitment to your home seriously and that will reflect in everything we do on your property.  We'll treat your home as if it were our own, this includes a clean job site, quality craftsmanship and an excellent customer service experience.
We are passionate about transforming your home or property into a better place and the entire team at Branch takes great pride in the work we do for each and every one of our customers.  It's through word-of-mouth and many happy clients that our company continues to grow.
To schedule an estimate for your home addition project please call (919) 995-6325 or fill out our contact form and we'll get right back to you.
What Our Home Remodeling Clients Say...