ADU Construction Contractor
We build ADU's in Holly Springs, Apex, Cary, and Fuquay-Varina
An Accessory Dwelling Unit (ADU) is a secondary residential unit that can be established on a property with an existing single-family dwelling. These units, often referred to as "in-law suites" or "carriage houses" or "laneway suites" can be either attached to the primary residence or built as detached structures. ADUs provide an additional source of housing, especially in areas like Wake County, North Carolina, where housing demand is rapidly increasing due to population growth.
These units are typically used to accommodate extended family members or to generate rental income for homeowners, thus contributing to housing affordability in the region.
ADUs in Wake County can vary in size but are generally smaller than the primary residence on the property. According to Wake County regulations, the maximum size of an ADU is 50% of the primary residence's floor area. This size limitation ensures that ADUs remain secondary to the main dwelling and maintain the character of the neighborhood. ADUs can be designed as stand-alone structures or integrated into the existing residence, such as a basement or attic conversion.
At Branch Home Improvement LLC, we specialize in home remodeling services based in Holly Springs, and we take pride in serving homeowners throughout North Carolina's Triangle area, including Apex, Cary, and Fuquay-Varina. Our skilled team is adept at designing and constructing outstanding Accessory Dwelling Units (ADUs) that harmonize perfectly with your current property.
Wake County has specific regulations governing the construction of ADUs to ensure they comply with zoning and building requirements. The construction of an ADU must adhere to the underlying zoning district's setbacks and height limitations. Additionally, each property can only have one ADU.  The property owner is not required to reside in either the primary residence or the ADU.  Making them an attractive option for rental income. More information on the regulations and requirements for ADU construction in Wake County can be found on the county's official website on their ADU resources page.
What Are The Basic Requirements To Build An ADU?
The demand for Accessory Dwelling Units (ADUs) in Wake County, North Carolina, has been on the rise in recent years, primarily due to the area's rapid population growth and housing affordability challenges. As a response, Wake County officials have established a basic checklist for homeowners interested in constructing ADUs on their property.
Determine if Your Property is Eligible for an ADU
Before embarking on an ADU construction project, it's crucial to determine if your property is eligible. To qualify, the property must be zoned for single-family residential use, and the owner must reside in either the primary dwelling or the ADU. You can verify your property's zoning by visiting the Wake County iMAPS tool at maps.raleighnc.gov/imaps.
Understand the Size and Design Requirements
Wake County has specific size and design requirements for ADUs to ensure they blend seamlessly into the neighborhood. ADUs cannot exceed 50% of the primary dwelling's floor area.  For example, if your primary residence is 2500 square feet, your ADU could not exceed 1250 square feet in size.  Additionally, the design must adhere to the underlying zoning district's setbacks and height limitations.
Obtain Necessary Permits
Before beginning construction, homeowners must obtain the necessary permits from the Wake County Planning Department. This process involves submitting a completed application, including a site plan, floor plan, and elevation drawings. The department will review these documents to ensure compliance with zoning and building requirements.  At Branch Home Improvement we can provide drawings and handle the permitting process for you.
Adhere to Building Code Requirements
ADUs must be constructed according to the North Carolina State Building Code. This means meeting requirements for fire separation, emergency egress, and other safety standards. At Branch Home Improvement we are well-versed on these requirements and can ensure your new ADU complies with these regulations.
Plan for Adequate Parking
Wake County regulations require at least one off-street parking space for each ADU. The space must be located on the same property as the ADU and cannot obstruct access to the primary dwelling. This requirement helps maintain parking availability in the neighborhood.
Consider Utility Connections
Utility connections, such as water, sewer, and electricity, must be planned for during the ADU construction process. Homeowners should consult with their local utility providers to determine the best approach for connecting their ADU to these services.  At Branch Home Improvement we can also help you with this process.
Why Choose Branch Home Improvement For Your ADU Construction Project?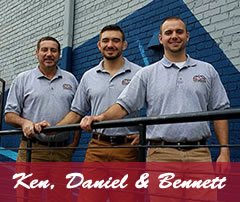 When you choose to work with Branch Home Improvement to design and build your Accessory Dwelling Unit (ADU) you are partnering with a small team of talented and dedicated craftsman.  We take your commitment to your home seriously and that will reflect in everything we do on your property.  We'll treat your home as if it were our own, this includes a clean job site, quality craftsmanship and an excellent customer service experience.
We are passionate about transforming your home or property into a better place and the entire team at Branch takes great pride in the work we do for each and every one of our customers.  It's through word-of-mouth and many happy clients that our company continues to grow.
To schedule an estimate for your ADU construction project please call (919) 995-6325 or fill out our contact form and we'll get right back to you.
What Our Home Remodeling Clients Say...