Bonus Room Construction & Remodeling
Transforming bonus rooms in Holly Springs, Apex, Cary, and Fuquay-Varina
A bonus room is an additional, versatile space in a home that can be used for a variety of purposes, depending on your needs and preferences. Unlike other rooms in a house that have designated functions, such as bedrooms, bathrooms, or kitchens, a bonus room is a flexible area that can be adapted to serve multiple functions or accommodate changing needs over time.
Bonus rooms can be found in different parts of a home, such as above garages, attics, dormers, in basements, or as a separate space on the main living floor. Homeowners may choose to use bonus rooms as home offices, entertainment rooms, playrooms for children, guest bedrooms, home gyms, or hobby and craft spaces, among other purposes.
The appeal of a bonus room lies in its adaptability and the potential for personalization, allowing homeowners to create a unique space that reflects their interests, enhances their lifestyle, and adds value to their property.
At Branch Home Improvement LLC, we are a dedicated home remodeling contractor based in Holly Springs, proudly serving homeowners throughout the Triangle area of North Carolina including Apex, Cary, and Fuquay-Varina. Our expertise lies in building and remodeling bonus rooms for our clients throughout Wake County.
Spaces We Can Convert To Bonus Rooms
Homeowners in Apex, Fuquay-Varina, Cary, and Holly Springs are increasingly seeking ways to make the most of their living spaces by converting unused areas into functional, versatile bonus rooms.
These bonus rooms can serve various purposes, such as home offices, entertainment areas, guest rooms, or hobby spaces, adding value and comfort to your home.  Here are a few of the different spaces that can be transformed into bonus rooms.
Attics: Attics are often overlooked, underutilized spaces that can be transformed into stunning bonus rooms. With their unique architectural features, such as sloping ceilings and exposed beams, attics provide a cozy and intimate atmosphere that can be perfect for creating a home office, library, or reading nook. Before converting an attic, it's essential to consider factors like insulation, ventilation, and structural support to ensure the space is comfortable and safe for use.
Unused Space Above Garages: The area above your garage, also known as a "garage loft," can be an ideal space for creating a bonus room. Converting this space can provide you with a separate, dedicated area for a variety of uses, such as a home gym, a guest suite, or an entertainment room. When transforming a garage loft, consider adding proper insulation, soundproofing, and access options, such as a separate staircase or an exterior entrance, to maximize functionality and privacy.
Basements: A basement can be a treasure trove of potential when it comes to creating a bonus room. Depending on the size and layout, you can transform your basement into a home theater, a game room, or even a fully-functioning apartment for extended family or guests. Make sure to address any moisture issues, install proper lighting, and consider adding insulation and soundproofing to make the space comfortable and inviting.
Underused Corners and Alcoves: Every home has those underused corners and alcoves that often go unnoticed. With some creativity, these spaces can be repurposed into functional and attractive bonus rooms. For example, a large alcove could be transformed into a cozy reading nook or a mini home office. Utilize built-in shelving, seating, and efficient lighting to maximize the space and create a comfortable environment.
Enclosed Porches or Sunrooms: Enclosed porches or sunrooms can also be converted into bonus rooms, providing a bright and airy space for relaxation or hobbies. These rooms are particularly well-suited for creating a home office, art studio, or meditation space, as they typically offer abundant natural light and views of the outdoors. To ensure year-round comfort, consider adding insulation, heating, and cooling options to the space.
Splitting Larger Rooms: If your home has an exceptionally large room, you might consider splitting it into two separate spaces to create a bonus room. This can be an effective way to make better use of your square footage and introduce a new, functional area to your home. The conversion can be done by installing a partition wall and even incorporating sliding or folding doors for flexibility.
By tapping into the potential of unused spaces in your home, you can create versatile, functional, and personalized bonus rooms that cater to your unique needs and interests. Whether it's an attic, a garage loft, or an underused corner, there's a wealth of opportunity waiting to be discovered in these often-overlooked areas. So, let your creativity run wild and transform these hidden gems into beautiful, functional spaces that enhance your home and lifestyle.
Why Choose Branch Home Improvement For Your Bonus Room Construction Or Remodeling Project?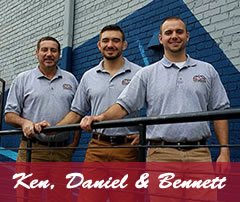 When you choose to work with Branch Home Improvement to design or remodel your bonus room you are partnering with a small team of talented and dedicated craftsman.  We take your commitment to your home seriously and that will reflect in everything we do on your property.  We'll treat your home as if it were our own, this includes a clean job site, quality craftsmanship and an excellent customer service experience.
We are passionate about transforming your home or property into a better place and the entire team at Branch takes great pride in the work we do for each and every one of our customers.  It's through word-of-mouth and many happy clients that our company continues to grow.
To schedule an estimate for your bonus room remodeling project please call (919) 995-6325 or fill out our contact form and we'll get right back to you.
What Our Home Remodeling Clients Say...